Permanent destruction of sweat glands.
Helps with excessive sweating, odor, and hair.
An average of an 82% sweat reduction after just one treatment.
FDA approved
What Is miraDry?
First and only FDA-cleared treatment to permanently eliminate underarm sweat and odor glands.
Precisely controlled electromagnetic energy to your underarms, causing your sweat glands to break down through heat (thermolysis).
What Will the Treatment Process Consist of?
Dr. DuPont performs the one hour treatment in her office in a few easy steps.
Local anesthesia is applied to the treatment area.
The underarm treatment area is marked with a temporary tattoo.
miraDry handheld device is applied directly on your skin and activated.
Slight suction is felt as the device brings your skin and glands closer to the surface.
Finally, as Dr. DuPont delivers the miraWave™ energy, your sweat and odor glands are destroyed.
miraDry technology applies soothing cooling throughout the treatment process to protect your skin.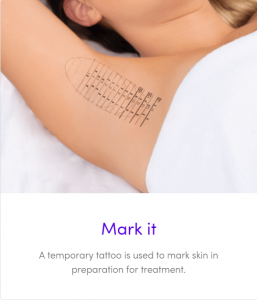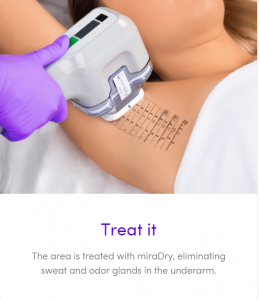 What Are the Benefits of miraDry?
Most patients only need one treatment. Additional treatment may occasionally be necessary. Destroyed sweat glands do not regenerate.
An average of 82% reduction in sweat after one treatment
Immediate and permanent results
Reduction in underarm hair and odor
Toxin free
Quick and comfortable in office procedure
Little to no down time
Is miraDry the Right Treatment for You?
Millions experience the frustrating and embarrassing problem of excessive sweating. Sweat stains can not only be a nuisance but they can be costly and ruin clothing.
Only 2% of your sweat glands are in your underarms. miraDry is a safe and effective procedure that poses no physiologic risks. The treatment is not recommended for patients under 18 years of age.
Whether you're sick of the discomfort of sweat running down your sides, or you're done suffering from the embarrassment of obvious sweat stains, miraDry can boost your confidence and leave you feeling cleaner, fresher, and worry-free.
MiraDry Reviews
I had MiraDry done by Dr. DuPont and it was life changing. Highly recommend the treatment and Dr. DuPont to anyone suffering from over active sweat glands…Dr. DuPont and her staff are so great. They made everything easy for me and are excellent at what they do. I sincerely and enthusiastically recommend them and the MiraDry procedure.
I recently had miraDry at Dr. DuPont's office. She was super attentive and funny. My treatment was painless and I am now sweat free! It's amazing that I never have to wear deodorant ever again or that I'll never sweat in my underarms again.